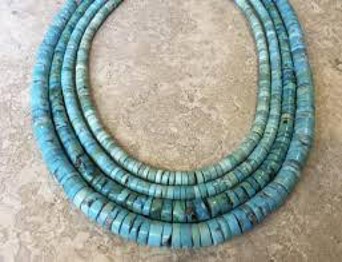 The Santo Domingo Indians are one of the 18 modern-day Rio Grande pueblo tribes that are descended mainly from the prehistoric Anasazi. The puebloans moved into the Rio Grande valley in the 14th century A.D. The Rio Grande pueblo reservations are the Acoma, Cochiti, Isleta, Jemez, Laguna, Nambe, Picuris, Projoaque, San Felipe, San Ildefonso, San Juan, Sandia, Santa Ana, Santa Clara, Santo Domingo, Taos, Tesuque and Zia.
The Santo Domingo create both silver, shell and authentic turquoise jewelry. The Santo Domingo traditionally have made rolled turquoise and shell "heishi" beads similar to those of their prehistoric ancestors.
To make a strand of beads, the turquoise or shell are drilled and carefully ground and polished into shape by pulling them across a grinding stone. Finer the strand of beads, the more skill, time and cost.